Many law firms are making disastrous SEO mistakes, losing money, and achieving little results. Like any other business, law firms require search engine optimization to compete for clients. However, due to the internet's complexity, it is easy to put in so much effort and achieve little result.
You must get your SEO right to ensure new clients keep coming. First, you must pause to critically evaluate your efforts and find answers to the question — "what am I doing wrong?"Afterward, take steps to rectify any faults you may have discovered.
This article will show you the most common law firm SEO mistakes you might be making. You will also get directions on retracing your SEO steps, meeting more clients, and making more money.
7 Most Common Search Engine Optimization Mistakes for Law Firms
Ranking high on the search engine is a top priority for any digital marketing campaign. If your law firm relies on organic search optimization over pay-per-click (PPC) adverts, the following mistakes can ruin your chances.
From the first day of July 2019, Google began to prioritize mobile sites in website indexing. This means that Google will pick mobile sites over their desktop versions to rank content. Therefore the mobile version of your website rather than the desktop will determine where your content will occupy on the SERP.
The reason for this shift isn't far-fetched. There are far more mobile search engine visitors than desktops. Many law firm SEO campaigns have made the costly mistake of delivering high-quality desktop versions to the detriment of mobile ones. If you have made this error, your law firm's website has lost many viewers and potential clients.
To avoid this mistake, your law firm must ensure that the mobile version of your website is as qualitative as its desktop version. You can use your website's mobile version or the Google mobile-friendly test to see how well your mobile audience will love your website.
Poor Search Engine Reviews 
There are lots of potential clients who judge the credibility and suitability of law firms based on reviews. If your law firm's review doesn't inspire confidence, they won't bat an eyelid before hopping on to the next website.
How does a review communicate competence and inspire confidence? By accurately reflecting the strengths and weaknesses of your firm.
To achieve this, your reviews should be good enough to give a favorable impression. But on the other hand, if your reviews are all good, your online audience will find it hard to believe.
Encourage your clients to drop reviews – even negative reviews. The fastest way to win client loyalty is to demonstrate honesty and a genuine desire to serve them better.
Failure to Update Website Content 
Relevance is everything when it comes to your website's content. Nothing diminishes relevance like outdated content. Search engines, desperate to protect their audience's interest, will reduce your website's visibility after detecting a lack of relevance.
Not all information will be relevant five years after publication. Laws and regulations are subject to amendment, and so should your website. Therefore, ensure you only upload what your audience needs and update your content to reflect new changes.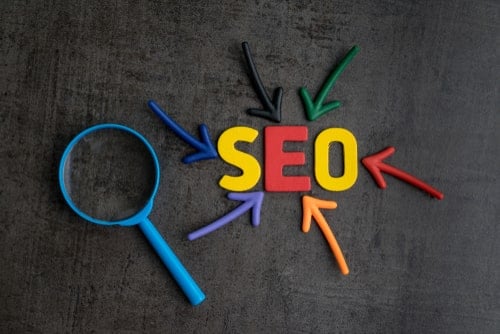 Using Lengthy and Complex URLs 
A Uniform Resource Locator (URL) describes the location of your website on the Internet. The length and simplicity of your website's URL determine how readable and clickable it is, especially on social media.
Your website's URL characters shouldn't exceed 2048. Anything more than that is cumbersome to the eyes and could lead to lower search rankings.
Also, you can increase your URL's readability by keeping it free from uppercase or special characters. For example, Google does not recognize underscores in your URL. In addition, using the HTTPS protocol (which is encrypted and more secure) instead of HTTP will motivate more visitors to click on your website's link.
Did you know that more than half, precisely 53% of your website's visitors, will abandon your page if it's too slow? For a law firm that has invested effort and resources to find more clients online, that's a mistake you can't afford.
How do we gauge a slow website? It's simple. Suppose your website takes more than three seconds to load a page; it is slow. If your website falls into this category, several solutions can remedy the snail speed.
You can declutter your website by pulling out any unnecessary elements, minifying CSS and JavaScript, free your website from as many 301 redirects as possible. You can also change to better website hosting and reduce the image sizes. Afterward, you can use Google's Page Speed Insight to see if you've done an excellent job.
Your Metadata Is Too Long 
Metadata includes the meta title or meta description HTML tags. Metadata shows on the search result. While the meta title is the hyperlinked title of your content, the meta description tells the reader what they will find if they click on your website.
These two tags are what the reader sees on the SERPs page and play significant roles in convincing the reader to check out your website. However, unknown to many law firm owners, lengthy metadata can put your potential clients off.
Let your metadata be brief and strategic. Limit your meta title to 60 characters, while your meta description stays within the range of 80 to 155 characters.
Leaving Out Keywords in Heading Tags and Meta Descriptions
Your website may fall off the search engine ranking ladder due to a lack of keywords in heading tags and meta descriptions. Keywords may be a few letters, but they help the search engine establish the connection between your content and your heading.
Search engines may place your content under a slightly different search query if your heading tags and meta descriptions do not have keywords. This can send your SEO efforts crashing down like a pack of cards.
Placing keywords in your heading tags and meta description will boost your content's rank and attract the needed traffic. However, ensure not to engage in the counterproductive venture of stuffing your heading tags with keywords.
Get the Desired Search Engine Optimization Results With the Help of EverConvert 
Search engine optimization and other digital marketing services are best left to marketing experts. Besides the fact that SEO could be pretty complicated, running a law firm is a tasking job that requires undivided attention.
When you allow EverConvert to take over your SEO campaigns, we will ensure you get the desired result. Our SEO experts use analytics-driven logic to achieve results that will keep you on the first SERP and get you the calls needed to grow your firm. Hire our digital marketing services today.