When we review a client's site before we start making changes, we notice that many of them do not have all the necessary disclaimers for a law firm website. We are not lawyers, but as digital marketing specialists, we know that people may take everything they read on your site as advice for their particular case.
After all, why hire a lawyer when you can read some blogs and apply the DIY approach to your case? And when something goes wrong (as it is likely to happen), who will they blame? Not themselves, of course, but the law firms that published the articles they read.
When looking for templates of disclaimers for a law firm website online, you will find everything from the very brief and obscure to the very elaborate and practically impossible to understand by the average person. Our role as digital marketing specialists is to work with you and create a disclaimer that maintains its full meaning in simple words.
You Know Better Than Anyone How Easy It Is to Get Sued
Legal blog disclaimers are your only protection against a lawsuit. Anyone can claim that they followed the instructions you gave in a blog to file an insurance claim or workers compensation claim and they got their claim denied.
Also, certain disclaimers for a law firm website must meet specific rules set by the authority. This is the case for law firm advertising in Georgia, for example.
For this reason, we strongly encourage you to collaborate with our content specialists and make sure that your law firm website contains all the required disclaimers to protect your firm from lawsuits and breach of rules and regulations.
The Most Important Disclaimers for a Law Firm Website
We do not claim to say that one disclaimer is more important than the others. Thus, this is not a ranked list but is numbered for your convenience.
1. Attorney-Client Privilege Disclaimer
This is one of the disclaimers for a law firm website that should appear on every page of your site – preferably in the footer. The content of the disclaimer must inform website visitors that using the site does not create any attorney-client relationship.
Moreover, the disclaimer must clearly explain that contacting your firm through any method listed on the site does not automatically create this type of professional relationship. Many people assume that just because you ask them for their name, email and a few details about their case you accept to represent them.
2. No Legal Advice Disclaimer
In legal blogs, you offer general purpose information about various types of legal claims, such as car accidents, slip and fall accidents, workplace injuries, and so on. However, some people may feel tempted to follow the steps presented there on their own, skipping the crucial element of hiring a lawyer.
Disclaimers for a law firm website must include one explicitly stating that no piece of content on the site represents legal advice. The wording must be simple and clear, leaving no room for interpretations and doubts.
3. Attorney Advertising Disclaimer
Many states require attorneys to display a disclaimer stating that the website itself represents a form of advertisement. Some states have very clear rules, including instructions on the wording that must be included in the disclaimer.
We will rely on your team of lawyers to tell us the rules applicable to your jurisdiction so that our digital marketing specialists create a fully compliant disclaimer.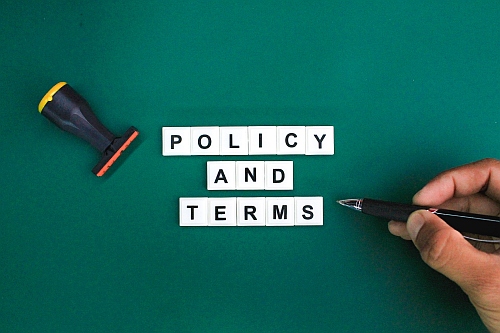 4. Website Communication Disclaimer
The internet is not a safe space. All types of risks exist, no matter how hard you work to make your site safe. In this light, the disclaimers for a law firm website must deal with the aspect of confidential information shared with you using the online form of your side or email.
The disclaimer must instruct visitors to refrain from sending any kind of information that they consider private or confidential.
5. Fields of Specialization Disclaimer
The American Bar Association (ABA) prevents lawyers from using terms such as "expert" or "specialist" when referring to their practice area unless they were certified by a relevant authority and professional body. Even so, there are limitations to the ways you can use this certification for marketing purposes.
You must always add a disclaimer on your site that clearly states the limitations and conditions of the certification if you display its badge, name, or logo.
6. Website Owners Identification
This is one of the must-have disclaimers for a law firm website, according to ABA rules. Thus, you must include the name and contact detail of at least one lawyer in your law firm who is responsible for writing or reviewing content published on your site.
This rule exists to ensure that the content of your site was checked for accuracy and reliability by someone with legal training.
7. Links Disclaimer
Last but not least, you should consider adding a disclaimer regarding the outbound links added to anchor text in your content. These links lead to reputable websites, which help increase the SEO ranking score of your site.
However, there is no guarantee that these websites are always available and free from security risks. They are not under your control and you cannot possibly check them on an ongoing basis.
Thus, the disclaimer should alert visitors that clicking on these outbound links will take them away from your law firm website and that you are not liable for the content, availability, and security of the respective websites.
You Have the Legal Know-How, We Have the Content Writing Professionals!
The team at EverConvert will work with your lawyers to create disclaimers for your law firm websites that comply with all the requirements in your state. At the same time, we will be careful to write them in a way that is easy to understand by the average person.
These disclaimers exist for your own protection, but also to inform website visitors about the way they can use your site and what its limitations are. So let us work with you and make sure that your site is a source of profits from traffic, not a liability for your professional reputation!