One of the first things our digital marketing specialists ask a potential client is: where do you want to find clients for your law firm? The question has great importance for local SEO for law firms and for your marketing budget. If you do not have a nationwide presence, there is no point in bringing people from another state to your website.
And our mission is to turn website traffic into profits. So we will focus on local SEO for law firms in particular because this strategy has the best results. Once we deploy it, your site will appear in searches from people living in the geographical area you serve.
Today we will talk about the specific steps we take to obtain these results for you.
How Does Google Pick the Top Results for Local Searches?
One of the key benefits of local SEO for law firms is the fact that your site may appear in a special section at the very top of Google search results. Called the Local Pack, the results in this section appear in large, bold font and immediately draw a user's attention.
In order to rank for these enviable positions, your business must meet three basic conditions:
Relevance – Your field of activity and website content must match the user's search query
Distance – the proximity of your place of business/website IP to the user's location
Prominence – the reputation of your business.
Google has a set of helpful tips to help sites rank for local searches. But they represent just a part of the complete strategy for local SEO for law firms. Our digital marketing specialists know that there is much more work to do to get your lawyer site among the Google Local Pack.
The Most Important Elements of Local SEO for Law Firms in 2023
Today, law firm sites that want to gain more visibility in local searches from their area of service must have the following things.
1. A Complete Google Business Profile Listing
You may know Google Business Profile under its old name, Google My Business. This is an online listing that Google offers for free to all businesses. It is critical to fill in every detail accurately, especially:
The business category
The name, address, and phone number (NAP) of your business
Opening hours
Relevant photos of your place of business.
Once the registration is complete, our digital marketing specialists will follow the necessary steps to verify your listing. This can be done by email, phone, or postcard.
After verification, your law firm will have a complete listing on Google and a pin on Google Maps.
2. SEO Optimization Using Localized Keywords
You may wonder: well, I am doing local SEO for law firms – but how does Google know that someone is making a local search? Google has realized for some time that users resort to specific terms when they want to search for products and services in their local area.
Thus, a local search is triggered when a user types a keyword followed by:
Near me
In (city name)
Close to (address or landmark).
As part of your local SEO strategy, our digital marketing specialists will go through the entire content of your law firm website and optimize it with these localized keywords.
3. Local Website Pages
Local website pages are a must if your law firm has offices in several cities (or even several states). In this way, potential clients from each area you serve have a higher chance to find your law firm among the Google Local Pack.
Our content writers will create a fully optimized page for each of these cities, with a unique URL containing the city name.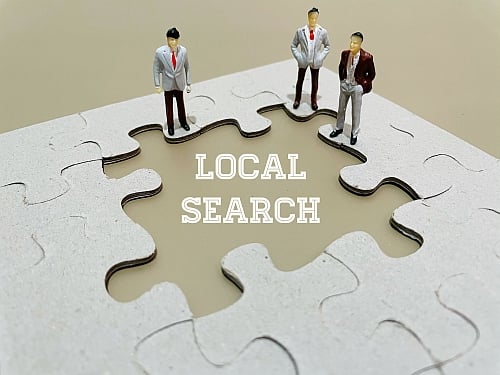 4. NAP Citations on Online Directories
Google relies on more than Google Business Profile to verify your contact details. The search engine performs searches on:
Review sites
Business directories
Social media.
For this reason, a big part of local SEO for law firms is creating listings on relevant online directories. Also, it is critical to use the same format for the contact details everywhere, including your website, the Google Business Profile listing, and your law firm's social media pages.
Any discrepancy may be interpreted by Google as a different business and you would end up becoming your own competitor.
5. Client Ratings and Reviews
When it comes to verifying prominence, Google relies a lot on the clients' opinions about a business. These opinions appear as ratings and reviews on the company's Google Business Profile listing.
As part of local SEO for law firms, our digital marketing specialists create streamlined solutions that encourage your happy clients to leave positive reviews not just on your site or social media pages, but also on Google.
A significant number of positive reviews and high ratings are key elements that significantly increase your chances of being featured in the Google Local Pack.
6. The Google Screened Green Badge
Google Screened is one of the more recent features Google offers for professional services websites, including law firms, in the US. The green badge appearing next to your site is proof that Google has verified the active law licenses for all the lawyers in your law firm.
One of the ways of making sure your law firm website gets its badge faster is making sure that all the licenses and accreditations of your entire legal team are prominently displayed on your site.
7. Content that Generates Valuable Backlinks
Finally, local SEO for law firms works best if your site gets backlinks from reputable websites. Each of these links is a form of endorsement for your website. It means that someone trusts your content and uses it as a way of supporting their own claims and statements.
The kind of content that generates valuable backlinks is:
Evergreen – the topic remains true and relevant in time.
Thoroughly documented – all claims are backed by evidence.
Well written – easy to read and understand even by someone who is not an expert.
Helpful – provides an answer or a solution to a real problem.
Our Team Will Create the Best Local SEO Strategy for Your Law Firm!
At EverConvert you will find a team of dedicated digital marketing specialists who deliver what they promise: turning website traffic into profit. One of the methods we use successfully is local SEO for law firms.
By driving traffic from the geographical area you serve, we maximize the chances that every visitor is a potential client with a case. And once they reach your website, we will make sure that they find what they need to trust your law firm and schedule an appointment.
Don't let competitors take your place in Google Local Pack! Talk to our specialists and claim it for yourself!