One of the first things our digital marketing specialists will do after you sign up for our services is perform an SEO audit and set up a schedule for future check-ups. However, some clients will ask us to hurry up with this activity and start implementing the changes we promised that would turn website traffic into profits.
The fact is that we cannot do that without the SEO audit. It is just like a prospective client asking you to sue someone before you had a chance to analyze the evidence and determine the best legal strategy.
As we will explain in this article, performing an SEO audit on your law firm website is also a huge opportunity to find ways of improving your site and getting ahead of your competitors.
What Exactly Is Involved in an SEO Audit?
We will assign a multidisciplinary team to audit your law firm website. The reason for this is that we will go over all the relevant aspects that play a role in the overall ranking of your site on Google and other search engines.
You must understand that the Google ranking algorithm is very sophisticated and complex. As the Google team explains in an article for users, the search results you will see are influenced by:
The meaning of the search query
The quality and relevance of the content on the sites
The usability of web pages
The user's preferences expressed in personalized search settings.
An SEO audit aims to check that everything on your site complies with the ranking factors. Moreover, even elements outside your site – backlinks – can have a major impact on how Google evaluates your site.
Thus, our digital marketing specialists will perform not one, but five different types of check-ups during the SEO audit of your website.
1. Technical SEO Audit
Our top specialists will analyze the architecture of your site, paying attention to factors such as:
Website security
Bloated or outdated code
Large files
Any other factors that may slow down the site
The existence and content of the robots.txt file
If Google indexed the site completely and correctly.
This is a very important first step. Most of the ranking problems and Google penalties are generated by technical issues. As a lawyer, you may not be aware that your site has such problems. And even if you start reading how-to SEO articles, trying to fix things on your own can be extremely tricky. A simple mistake can make your website unusable by anyone.
2. On-Site SEO Audit
An SEO specialist will check if your site is SEO-friendly. This verification will include an analysis of the keyword optimization of:
Page titles
Headers and subtitles
Meta descriptions
ALT text and titles for photos.
We will also look at the internal linking structure (anchor text pointing to other relevant pages on your websites). All these elements help Google determine whether the content on your site is a good match for the keywords and intent of search queries made by users.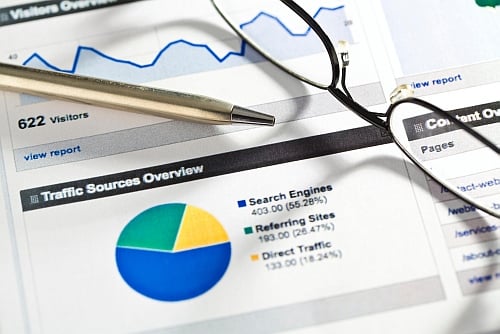 3. Content Audit
Content on your law firm website will get a separate overview during our SEO audit. It is one of the most laborious tasks because we will not leave any bit of text out. If you want to be on the first page of Google search results and get quality organic traffic, the content on your site must meet several ranking criteria:
It must be unique and original.
It must be well-written and easy to understand by readers.
It must be relevant to your field of business and the keywords.
It must be accurate, informative, helpful, and well-researched.
Meeting all these criteria is essential for law firm websites. Your field of activity is one of the business domains under special scrutiny by Google. The purpose of this scrutiny is to eliminate false and misleading information from search results on sensitive topics involving:
Law
Finances
Healthcare
Employment
Shopping
News.
4. Off-Page SEO Audit
During the off-page SEO audit, our digital marketing specialists will analyze websites linking back to your law firm's website. Although backlinks represent a key ranking factor, not all such links are good for your site.
In fact, low-quality backlinks from spammy or phishing sites will actually lower your domain authority and SEO ranking. Once we identify any such links, we will remove them and set rules to prevent other similar sites from linking back to yours.
5. Core Web Vitals Audit
Google introduced Core Web Vitals ranking factors nearly two years ago, in May 2020. However, there are still many websites that do not meet the minimum requirements set by Google for:
Largest Contentful Paint – under 2.5 seconds
First Input Delay – under 100 milliseconds
Cumulative Layout Shift – under 0.1 (a numerical factor).
While a simple test can show you if your site meets the criteria or not, finding out what is slowing down your site and fixing the issues are different matters. In many cases, our digital marketing specialists have to make changes to your site code or to the files embedded in it.
Why Is the SEO Audit Important for Your Law Firm Website?
An SEO audit – just like any other kind of audit – aims to identify vulnerabilities as well as opportunities for growth.
The audit in itself is not the end, but the beginning of the process to improve your website and bring it to the first page of Google search results. After we complete the SEO audit, we will know the following important information.
1. What Issues We Have to Fix
A thorough SEO audit will bring to light all the problems that prevent your site from ranking higher on Google despite your best efforts. As explained above, many issues are highly technical and nearly impossible to spot by a non-specialist.
2. How Your Site Performs Compared to Your Competitors
We can perform parallel analyses on your direct competitors' sites and show you how your site performs against them. This will give you an idea of what they do better than you. Also, it will help us reshape your SEO strategy to help you overtake them and get more exposure to potential clients.
3. What Are the Best Growth Opportunities 
During the SEO audit, we will look at various analytical data. They will sometimes give us great ideas to help your site grow, such as:
Content topics that are very popular among readers
Types of content that attract high-quality backlinks
Search terms used by visitors to reach your website that are not included in your list of keywords.
Our SEO Specialists Can Turn Your Law Firm Website Into a Profit Source!
At EverConvert, you will find a team of SEO experts specializing in the legal field. We know what kind of competition you face and how other firms use their sites to attract clients. Our job is to make your site even better than theirs.
To do so, we must evaluate it and continue to monitor its performance in time. This is the purpose of the SEO audit – one of the cornerstone activities in our field. We will work in the background and present you our list of findings in a manner that helps you understand everything.
Do not lose valuable time – hire our digital marketing specialists to perform the SEO audit and start improving your law firm website!