When our digital marketing specialists start working on your law firm web design, they leave nothing to chance. Fonts, logos, layout, and colors – all these are aspects we analyze carefully. We know that, together, they must offer visitors both great visual appeal and usability.
And we also know an important thing: colors influence people's decisions. This is a documented truth, proven by many psychological tests and accepted as reality. The way people perceive colors determines careful marketing research to design logos, product packaging, and websites.
Thus, color is one of the key elements of successful law firm web design. Since the color scheme also reflects your brand, it is important to understand what the colors you use tell your potential clients.
Psychology Explains the Symbolic Meaning of Colors
Color psychology is a recent branch of study into how colors influence people's minds and emotions. However, a lot of progress has been made, especially since the advent of digital marketing.
At the present, both psychologists and digital marketing specialists know that people associate each color with a specific mood or feeling. This is why it is crucial to choose the right colors for law firm web design.
Let us look at the colors the biggest law firms use on their websites and what they mean.
1. Blue
The color blue is present on the websites of 45% of the biggest law firms in the US. The reason for this is that people associate this color with:
Trust
Stability
Security
Calmness.
There is also a difference in perception between the various tones of the color. Thus, dark blue represents knowledge, power, and integrity, while light blue triggers a sensation of calming energy.
This is why law firm web design frequently uses dark blue as the main color and light blue as the secondary color.
2. Red
Chosen by over a quarter of law firms in their design and branding, red is the color of passion, energy, power, and determination. It is also an attention-grabbing color.
For this reason, red is often the color of call-to-action buttons, such as the button to schedule a free case review.
3. Green
Green is a color of nature and sits right in the middle between warm colors (red, yellow, orange) and cool colors (blue and purple). People associate the color green with hope, growth, freshness, and stability.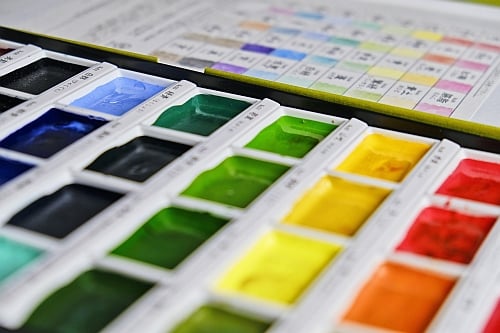 While it is not frequently used as the main color for the palette in law firm web design, it is a great accent color that reinforces the mission and values of your firm.
4. Gray
A blend of white (representing purity and peace) and black (representing strength), gray is a great secondary color for a law firm website. It tones down a strong main color such as dark blue or red, preventing the user from developing eye fatigue.
It is a subtle, neutral color that denotes professionalism, and allows the main elements of the web page to capture the visitor's attention.
5. Black
Black is one of the most frequently used accent colors in law firm web design. It symbolizes power, formality, solidity, and sophistication. Practically, it stands for what a potential client wishes a lawyer represents – a knowledgeable and earnest professional they can trust.
Best Practices in Combining Colors in Law Firm Web Design
When our digital marketing specialists meet with a new client, one of the things we want to establish is the color palette for their website. Obviously, the color of their logo will be one of the colors.
This leaves room for two more – because you should not burden your visitors with too many colors. Three colors are sufficient for any type of branding and layout:
A main color
A secondary color
An accent color.
Now, as to how to select and mix them, there are some rules:
Choose Complementary Colors
Dark blue and light blue are complementary colors. So are dark blue and gray. On the other hand, red and blue or red and black create a very powerful contrast, which can lead to eye fatigue in a short time.
This is why the main color and secondary color must be complementary instead of contrasting colors. However, the accent color, since it is used only for specific page elements, should create a contrast with the others.
Color Shade and Contrast Must Allow Perfect Readability
Law firm web design and digital marketing services have one sole goal: to attract potential clients to your site and convince them to schedule an appointment. Thus, everything on the site must create the best user experience.
This includes the colors used for the background and the text. The rule of thumb is that nothing is more important than good readability on any screen, under any lighting conditions.
Photographs Must Complement the Color Palette
No website is complete without photos. When it comes to law firm web design, photos used in the headers, in the lawyer's biographies, and elsewhere must blend in with the colors used on the site.
Once again, we refer to the rule concerning complementary colors. This is why you should always strive to use your own branded images or allow our digital marketing specialists to select them from high-quality stock photo websites.
Match the Color Palette to Your Target Audience's Preferences
Finally, you must be aware of the different meanings each culture associates with specific colors. For example, white is a mourning color for many people coming from East Asian countries. Meanwhile, for Hispanic people, yellow is the color that symbolizes mourning and death.
Thus, digital marketing specialists need to know what target audience you want to bring to your website. Based on their demographic and behavioral profile, Ever Convert web designers will select a color palette that does not have any negative connotations for them.
We Know Everything About Effective Law Firm Web Design!
EverConvert is a team of many talents and experiences. Web designers, content writers, and SEO specialists – we work together to help your law firm reach its goals. We know how to turn clicks into profits, and that every single element of law firm web design is essential.
We listen to you and strive to incorporate your preferences in the design we create, including your brand colors. When we think it would be beneficial, we will recommend an adequate rebranding strategy. So, contact us to schedule a meeting with our specialists and start building an effective website for your law firm!