In some situations, a client will hire our digital marketing specialists to build a brand-new website. This is a great option if your old site looks outdated and is created with an old site builder. Moreover, we can make sure that the site is SEO optimized from the day it goes live online.
We'll explore the importance of choosing the right CMS for a website and what features to look for.  But, before we delve deeper into this topic, let's start with a simple definition.
What Exactly Is a CMS?
CMS stands for content management system. It is basically a site-building platform, but it is much more than a simple site builder. With regular site builders, you can either write code (if you're a programmer) or use drag-and-drop blocks that limit the ability to customize the website.
A content management platform offers a complete dashboard for managing your site, with simple functions and a user-friendly interface. Using the CMS, you can:
Add or delete web pages
Edit, add, or delete text within pages
Add or delete images, and videos within pages.
Experienced digital marketing professionals prefer a robust CMS because it makes their work faster and easier. This allows us to provide customers with affordable and high-quality websites.
The Most Important Features of a CMS
Our specialists use WordPress, the most popular CMS platform. It boasts the following must-have features that allow our team to produce a top-quality website for law firms and other businesses.
1. User-Friendly Publishing Tools
The first reason why you would choose a CMS is because it allows anyone – even a person with no tech skills – to manage the website A good CMS has a detailed, user-friendly interface, which allows editing text, adding and deleting pages, and other actions described above simply by clicking on various buttons.
For example, adding anchor text (clickable text in a different color leading to another website) involves writing this bit of code in a site builder:
<a href="http://example.com">anchored text</a>
That looks rather complicated, right? In a CMS like WordPress, you simply click on the Add Link button (usually represented with an icon resembling a chain link). This is much easier, isn't it?
2. Social Media Integration
Social media is an integral part of your law firm's digital marketing strategy. For this reason, you must offer your site visitors the chance to share content from your website on their social media profiles with ease.
The simplest possible way is adding social media buttons to each web page. Once a user clicks a button, the URL of the page appears as a new post on their social media page. They can choose to add a few words or simply share the link as it is. With social media integration functions, our specialists can coordinate your on-site marketing strategy with your social media marketing efforts.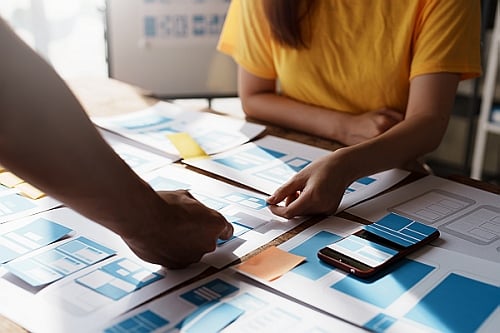 3. SEO Tools
SEO tools are essential both for our clients and for our digital marketing specialists. They help us check if a page is properly optimized and quickly add key elements that are missing, such as:
SEO title
Meta description
Image ALT and title.
These tools add clearly labeled text boxes to the editing dashboard so that anyone can easily optimize the page. Moreover, the tools indicate how well the page is SEO optimized, using color-coded buttons – red for poor, yellow for OK, and green for good.
4. Constant Updates
A CMS is good as long as it is continuously maintained and improved by the developers. Security, design, and usability standards evolve all the time, and a CMS must be able to keep up with them.
Moreover, hackers are constantly trying to find vulnerabilities in order to take control of a website for nefarious purposes. Thus, reliable CMS platforms will get constant security updates, containing patches to fix known vulnerabilities.
5. Content Moderation Tools
Most law firm website visitors are people who need your legal services. However, there are also those who only get on a site to leave comments containing profanities or malicious links. These comments must be removed as soon as possible – but this is a laborious task, and you don't have the time for it.
Fortunately, you don't have to worry about this issue if you have a good CMS for your website. It contains content moderation filters, which prevent these unwanted posts from appearing on your site.
6. Security Features
You use antivirus and anti-spam software on your laptop and mobile phone. You know that they are necessary – but did you consider that a website needs its own protection against hackers?
A good CMS offers you the option to add various security features, protecting your site from unauthorized access to the administrative dashboard and your clients from getting their personal data stolen.
7. Analytical Tools
Last but not least, a CMS you can rely on offers you insights into users' activity on your site. You can find out how many people visited your site on a daily basis, which pages get the most traffic, as well as various useful statistical data.
Although there are more complex tools for measuring these KPIs, it is useful to have them available on your website dashboard for a quick overview.
Let Us Create a Top-Notch Website for Your Law Firm!
The team at EverConvert has experience working with WordPress, the most popular CMS platform. Our goal is to build and optimize a successful website, which helps build your online brand image, attracts a lot of qualified visitors, and turns traffic into profits.
If you need a new website, get in touch with the EverConvert team. We will schedule an initial meeting to start discussing all the relevant aspects involved in website development.