Your law firm is a business; and like every business, you need clients to keep it running. Therefore, you need an effective marketing plan to generate quality leads and convert them into paying clients. A good plan combines several marketing techniques, such as search engine optimization.
Search Engine Optimization involves implementing different strategies to enhance the quality and quantity of traffic to a law firm's website to achieve high rankings on search engine result pages. Several ways to optimize your site for Search Engine Optimization include adding attorney schemas, optimizing landing pages for conversions, using high-quality keywords, etc.
Link building is essential to SEO as it helps increase SERP rankings. However, many websites acquire these links illegally or use low-quality links, hence, attracting penalties from Google. In this article, we will discuss different ways to build links without getting penalized.
What is Link Building?
Link building is the process of acquiring links from other websites to your own. That is, getting other websites to link to pages on your own site. These links are referred to as backlinks. Some strategies for link building include:
Content marketing
Email outreach
Unlinked brand mentions
Backlinks are one of the factors Google considers when ranking websites. The more high-quality backlinks a website contains, the higher it ranks. This is because search engines consider such backlinks as 'votes of confidence.' So, these votes help them determine which website deserves to rank high on search result pages for different topics.
What Are Link Penalties?
Link penalties are punishments for spam, low-quality, irrelevant, unnatural, or repetitive links on your law firm's website. These links attract penalties from Google because they violate the webmaster's technical requirements and are used to manipulate your site's results.
On the 'link schemes' section of the webmaster guidelines, Google states that:
'Any links intended to manipulate PageRank or a site's ranking in Google search results may be considered part of a link scheme and a violation of Google's Webmaster Guidelines. This includes any behavior that manipulates links to your site or outgoing links from your site.'
Google bots are constantly crawling over all websites. A penalty will be issued if they detect a low-quality link on your law firm's website. Notably, a penalty means that Google will demote your site's rankings, significantly reducing your visibility and organic traffic.
Google may even completely remove your website from the result pages. However, these penalties will be temporary if you make the necessary amendments.
Some examples of links that can get your website penalized include:
Press Release Links: These links were popular about a decade ago. Now,  Google considers press release links as link schemes since they're easy to manipulate.
Forum Links: Not all forum links are bad. However, penalties may be issued if you have thousands of forum links from foreign discussion forums. Google considers these links to be low-quality and spammy.
Private Blog Networks: Google and other major search engines consider PBN usage illegal.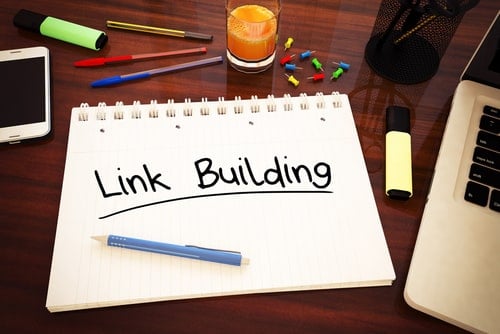 Search Engine Optimization: Five Ways to Build Links Without Getting Penalized
You can build links for your site without attracting sanctions. Below, we explain how to achieve this.
Your law firm's website must feature content that other webmasters would want to build links to.  Link-worthy content is useful; it can be educational, entertaining, inspirational, etc. It also solves an important problem or answers common questions the readers might have.
Every website owner wants to link to sites relevant to their audience. Therefore, the more relevant your page is to its audience, the higher the chances of them linking to it. Examples of link-worthy articles include:
Tutorials
Case studies
Infographics
Trends
Surveys
Inspirational articles
The advantage of publishing link-worthy content is that you don't need to pay to get your law firm featured with a backlink. Once your article begins to rank, no extra effort is needed, as people will link back to your content naturally. Content is king.
Competitor link research should form a core part of your link-building strategy. Researching the pages linking to your competition's website is a huge win for your firm. These backlinks will definitely be featured on websites relevant to your niche, so you're sure they'd be quality backlinks for Search Engine Optimization.
The logic behind this is simple. The top-ranking website for your desired keyword has all the right links, which convinced Google of its authority. Therefore, by researching and analyzing its links, you determine strategies to use so that your firm's website can acquire similar links and outrank that page.
Guest posting (also known as guest blogging) is another incredibly popular link-building strategy. When done right, you do not get penalized, and your website ranks high. Guest posting refers to publishing an article on someone else's website.
Guest posting effectively builds your credibility and gets your law firm in front of a new audience. To get started, research and curate a list of high-ranking publications in your niche that accept guest posts. Next, study their contributor guidelines and create relevant content with them. Once accepted, you can include a link to your website in the article.
Broken link building is a strategy that takes advantage of broken pages on the internet. It involves searching for a dead page and asking editors to replace the links with an active page on your law firm's website. Editors usually agree to these requests as they don't want to send their visitors to an inactive page.
Basically, you're providing value to the website's owner, helping them optimize their website and the internet in general while also building links to your website. To leverage this strategy, search for broken pages with backlinks, then vet the links. After that, your law firm can create a replacement page and reach out to the webmaster.
Outreach is the process of getting high-quality links from other websites by reaching out to other web admins and asking them to link back to your firm's website. As outreach efforts generate new links, your website attracts better audiences and high-quality traffic and generates more revenue for your law firm.
It is important to note that you're reaching out to real people who are very busy. So, the best results come from brief, polite, and respectful emails. You must also provide recipients with something worthwhile in exchange for their assistance.
Remember that the ROI of one high-quality link from an authority domain is far greater than many low-quality links.
EverCovert Is the Digital Marketing Agency to Handle Your Law Firm's Link Building in Greenville, SC
Link building is vital to Search Engine Optimization as it ensures that your firm's website ranks high on SERPs. However, you do it right to avoid attracting penalties from Google.
At EverConvert, we offer excellent digital marketing services. We can acquire high-quality backlinks for your website to ensure that you get quality organic traffic, thus increasing your revenue.